From range depletion to regenerative braking, here's what to be mindful of when driving an electric vehicle in the colder weather
Article content
In a perfect world, all electric vehicles would be driven in 23-degree Celsius weather with no wind, rain, or snow and on perfectly flat roads. Unfortunately, those conditions are rare in Canada, where temperature rise and fall within a matter of hours and perfectly flat roads… well, that's a mere dream.
Article content
Until then, Canadian EV drivers are subject to varying road and weather conditions, including good ol' winter that brings about wind, rain and snow, sometimes all at the same time. There are a few things you should be watching for when driving in winter conditions and to help give the rundown of what you can expect, we used the 2023 Genesis GV60 (recently reviewed for Driving's David Booth's Range Finder column) — though it's important to note that EVs can vary in size, shape and capability.
The most notable effect winter has on electric vehicles is the depletion of range as the cold weather impacts battery life, as does the HVAC system. Booth pointed out in a recent Motor Mouth column, "if you're planning a Christmas visit to mom and it's -20 C out, take whatever the car's official range rating might be and divide it in half." Even if your battery is rated for roughly 500 km, count on that being reduced in the winter, far more than in warmer months.
Article content
Using HVAC while driving an EV in cold weather
Using the HVAC system will see the largest fluctuation in range and in winter, and let's face it, it's almost a guarantee it'll be used. In the Genesis GV60, the vehicle was reading 436 km of range at start-up, while the outside temperature was showing -5 degrees Celsius. Here's how range was affected based on the fan speed (set to 22 degrees) vs. estimated range:
Fan speed 1, estimated range of 407 km
Fan speed 2, estimated range of 399 km
Fan speed 3, estimated range of 390 km
Fan speed 4, estimated range of 384 km
Fan speed 5, estimated range of 375 km
Fan speed 6, estimated range of 364 km
Fan speed 7, estimated range of 356 km
Fan speed 8, estimated range of 350 km
Using Auto, estimated range of 396 km
Article content
Basically, if you're running the fan at full capacity in the GV60, you've lost roughly 86 km of range, which is about 20 per cent. Realistically, the fan speed will probably stay somewhere in the middle, let's assume speed 3 for most drivers in the winter, but even that is still 46 km of reduced range, or around 10 per cent.
Take this into consideration when planning your routes, especially if it's a longer road trip that may require an additional 50 km of range that was potentially lost to the HVAC setting.
Motor Mouth answers all of your EV questions

Troubleshooter: 4 (avoidable) ways to hurt your vehicle this winter
Regenerative braking in the winter
A less common concern is the level of regenerative braking, but it's one that should be considered, especially during the winter months. On the highest level of regen — level 3 or one-pedal mode — there's a strong deceleration, meaning on slippery roads, there's a chance that your EV could slide before coming to a stop. The additional risk with sudden braking and deceleration is that the person behind you may not be able to react soon enough and a potential collision could occur.
Article content
Yes, there's a fairly small chance that this could happen but with icy or snowy roads, traction is reduced.
Snow build-up in the wheel wells
A build up of snow or ice (or both) on wheels and rims can cause an imbalance, resulting in a wobbly feeling at higher speeds. The quick solution is to pull over and dislodge everything stuck in there, then carry on. Keep in mind that EVs have a complex braking system as they're equipped with some pretty high-tech regenerative braking technology.
Due to the additional technology, there's a heightened need to make sure your rims are obstruction-free. If you're in bad weather with high accumulation, you might need to pull over every 30-45 minutes or so and do a quick check of your rims — I know, no one wants to get out the car in bad weather, but safety first.
Article content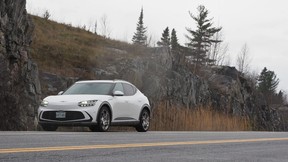 Drive modes in the winter
Mind your drive modes. Most electric vehicles have Eco, Comfort/Normal and Sport drive modes, and more than likely, for a consistently balanced throttle response, most people will keep it in Comfort/Normal.
If you're considering trying out the other modes in the winter, note that using Eco decreases throttle response. This risks not enough forward force from a stop to get you in motion quickly. On the flip side, the drawback of Sport is that you'll risk too much acceleration and a possible loss of control with the increased power bump.
Door handles on modern EVs
An increasing crop of modern EVs have door handles that pop out from the body, which means it's a moving part with a motor, which also means it can freeze shut. The worst thing you can do to try to thaw that frozen door handle is pour boiling hot water on it — the drastic temperature change can cause the part to crack or break.
Article content
Instead, try gently tapping around the handle to loosen any ice, which will usually do the trick. If it's still frozen, slowly pour warm water over the handle.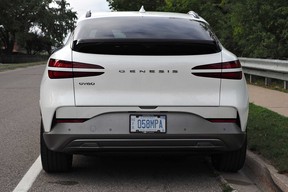 There's no rear wiper!
Specifically referencing the South Korean EV triplets — Kia EV6, Hyundai Ioniq 5 and Genesis GV60, there's (quite puzzlingly) no rear wiper, meaning a chance of reduced rear visibility. The 2004 Honda Accord coupe I own is also sans rear wiper so I apply a water-repellent solution to it weekly to increase what I see out my back window. The same should be done here, for the same reasons.
Charging an EV in the winter
When you're charging your EV, make sure there's no ice or snow around the connectors. Also, be aware that temperatures below freezing can result in slower charging times (as Toyota recently noted about the BZ4X) as EV batteries are optimized to charge in warmer weather.
Yes, parking indoors can help keep the car warm but if you're using an outdoor public charging station while on-route, you may have to plan on waiting a bit longer for your charge.
Got any tips or tricks for winter EV driving? Let us know in the comments!
Check out the latest Genesis GV60 model.