Is a low-mile creampuff really better than a retired rental car?
Article content
It has the salespersons' favourite used-car sales pitch: "this beauty was owned by a little old lady who only drove it to church on Sundays and bingos on Wednesdays." But does the ownership history of any personal-use vehicle really provide worthwhile insight into how it will perform and endure for future owners? And are rides driven by seniors really better than, say, a commercial fleet unit or a former rental car? Let's dive a little deeper.
Article content
We apologize, but this video has failed to load.
Troubleshooter: Don't believe these myths about senior-driven and used rental cars

Back to video
Consider the 'cream-puff' formerly owned by a senior with exceptionally low mileage (under 10,000 km per year, for instance). What could possibly go wrong with a gem like that?
Never assume that a driver in their golden years can't mistreat an automobile. Even if their driving habits are much more sedate than those of a demolition-derby pro, their ownership can still play havoc with even the best-built rides on the road. Those slow trips to church and the bingo halls can lead to carbon build-up on internal engine components, an affliction made much worse by direct-injection fuel systems (where gasoline cleaning-additives never come into contact with cylinder-head valves). In colder climes, those turtle-speed tours can also lead to water-condensate contamination of the engine oil, which can drastically shorten the lifespan of costly key components like crankshaft bearings and valvetrain mechanisms.
Article content
Maintenance on this type of vehicle is often sporadic because they never reach normal mileage milestones for routine services, and are instead simply inspected annually (if they were owned by a responsible operator getting solid service-counter advice). This might catch necessary maintenance and repairs, but it depends on the thoroughness of the service provider and their understanding of the needs of low-mileage vehicles.
Recommended from Editorial
Troubleshooter: Low-mileage used vehicles — what's to worry about?

How to check a used car for an odometer rollback
More often than not, the used-vehicle lot of a manufacturer-licenced dealership will offer a fleet of vehicles including lease returns and retired rental cars. Retailers love these types of products because they reduce their risk, as most are under three years old and are still covered by their original factory warranty. These vehicles also bring higher prices, meaning better margins.
Article content
What about warnings against purchasing an ex-rental car? I'd much rather take my chances with a rental over a senior's cream-puff: they're inspected more often; with a thorough visual every time they go out and return. As far as the experience and ability of the renters, remember that most firms won't rent to anyone under 25, and as they risk their credit cards with any rough use of the auto, the majority behave behind the wheel.
Likewise, rental firms know that they can't lend a vehicle with a warning light or any unusual symptoms, so it's unlikely that one will be operated with an existing problem for very long. Lease returns also face very strict inspections upon return, with all contracts containing clauses that make the original lessee responsible for any excess wear and tear. These terms seldom have any arbitration features, meaning the original lessees are on the hook.
Article content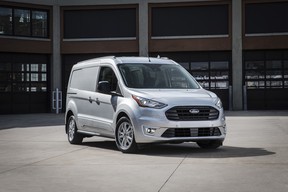 About the only types of vehicle owners you should be concerned about, if you're considering buying one of their used fleet vehicles, are public-works- and private commercial firms. These users tend to drive their vehicles into the ground and often only retire them when no longer justifiably reparable. Still, even this trend is starting to turn as many municipalities discover that it can be cheaper to reduce the life-cycles of their vehicles by trading them in earlier and reaping higher trade-in values rather than relegating them to the scrap-heap.
Regardless of who the vehicle's first (or second or third) owner was, the key to reducing your risk in a used vehicle is to do some homework on the particular make and model you're interested in. Check out consumer reviews and reports before you hit the pavement to start shopping. Ask for maintenance records, and if you're not sure how to understand them, take someone along who knows. You can save some headaches by shopping for a used vehicle from a factory-approved retailer that sells the same nameplates new. This means they have complete and easy access to recall and maintenance records, as well as any special warranty extensions and technical service information. And of course, if you have any qualms at all, you can always request an inspection by your regular service shop; any retailer that's interested in your business should be happy to comply. The results of these steps will be far more accurate than assumptions.