Knowing how to spot problems can help you to make a smarter used-vehicle purchase decision.
Article content
The automatic transmission in your car or truck is one of its most complicated and important pieces of hardware. Connected to the engine, the two components work hand-in-hand to move your vehicle down the road. Your engine generates the power required to drive the vehicle, and the transmission delivers (or transmits) that power efficiently to the wheels.
Article content
In a modern car or truck, a healthy transmission delivers smooth and seamless gear shifting, fuel-efficient performance, and a responsive drive. If the transmission in your car or truck is in perfect working order, you should hardly even notice it doing its job.
Still, automatic transmission problems can be a key reliability sore spot that used car shoppers should be aware of. Though most vehicles don't experience transmission problems, these are among the most commonly reported issues with a variety of used cars and trucks. Knowing how to identify and remedy transmission problems can help you to make a smarter, better-informed used-car purchase decision.
Below, we'll learn about the modern automatic transmission, and how to identify potential problems with the one in the used vehicle you're considering.
Article content
The automatic transmission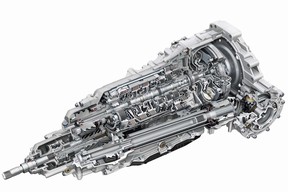 Most modern used cars, trucks, and crossovers come with an automatic transmission. If you're buying a used vehicle built within the past 20 years, there's a good chance it comes with a six- or eight-speed automatic — though 7, 9, and 10-speed automatics aren't uncommon.
Automatic transmissions are often (but not always) built by companies including ZF, Magna International, Aisin, and several others. Sometimes, special parts and programming are used to custom-build these transmissions for specific applications, though most are ultimately built by one of several manufacturers using a common basic design intended for multiple applications. The same ZF 8HP, for instance, is now found in models from Alfa Romeo, Aston-Martin, Audi, Bentley, BMW, Chrysler, Dodge, Iveco, Jaguar, Jeep, Lamborghini, Lancia, Land Rover, Maserati, Morgan, Porsche, Ram, Rolls-Royce, Toyota, Vinfast, and Volkswagen.
Article content
Keeping an automatic transmission healthy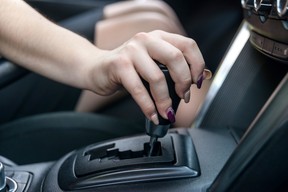 Like many parts of your car or truck, the modern automatic transmission is a computer-controlled machine made of parts and components that will eventually wear out and require replacement. As a vehicle ages, the rate at which this wear occurs largely comes down to how well the vehicle's transmission and electronic systems have been cared for throughout their life.
Regular fluid- and filter changes are one part of the equation. Just as your car's engine needs regular oil- and filter changes for a long and healthy life, most automatic transmissions have oil (called transmission fluid) and filters that need to be changed at regular intervals, too.
This service, typically called a transmission fluid change or transmission flush, is just like an oil change for your for your transmission.
Article content
Many automatic transmissions only need their fluid and filter changed every 80,000 or 100,000 kilometres, whereas many engines need an oil and filter change every 8,000 or 10,000 kilometres. During the life of your vehicle, it should undergo far more engine oil changes than transmission fluid changes. Remember: these figures are for illustration, and the specific transmission fluid change and oil change intervals for the car you're considering are listed in its owner's manual. An automatic transmission fluid and filter change service may run $150 to $300, or more in certain specialty applications.
Following these intervals strictly, and shortening them if you frequently drive in cold temperatures or do a lot of stop-and-go driving, is a key factor in giving your automatic transmission a long and healthy life.
Article content
Used Guide: 5 tips before you buy that used hybrid

Used Buyer's Guide: 4 reasons to check the cargo compartment
The same goes for the electronic side of your transmission.
A complex computer control system allows the transmission and engine to communicate with one another to work together as efficiently as possible. When these communication and control systems aren't working properly, you're likely to experience harsh or clumsy shifting, warning and error messages, or even damage to internal transmission components. In addition to regular fluid and filter changes, keeping your driveline's computer control system healthy and happy is another great way to fend off issues in the long term.
Start with the battery. A fresh and healthy battery is the foundation of reliable and trouble-free operation from all vehicle electronics, including the systems that control major components like the engine and automatic transmission. A weak or dying battery can cause the computer control system to make mistakes, which you'll experience from the driver's seat.
Article content
Don't forget software updates either. Like your phone or smartwatch, software updates are often released to correct or improve operation of the product; transmissions are no different. Updated software is often the solution to a wide range of drivability issues with the modern automatic transmission.
Dealers may install software updates automatically while your vehicle is in for regular servicing or an oil change, and some vehicles have over-the-air software update capability which allows software updates to be performed while your vehicle is parked in your driveway at home.
If you notice transmission trouble, a software update is a common remedy. If you're buying a vehicle that's been regularly dealer-serviced, or through a Certified Pre-Owned (CPO) program at a dealership, chances are the latest software updates, if applicable, have already been applied.
Article content
Vehicle powertrain warranties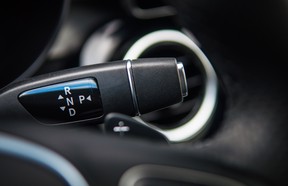 If you're buying a used car that's covered by some portion of its remaining powertrain warranty (or an aftermarket warranty package) that covers its transmission, you'll want to keep that warranty in good standing to avoid unpleasant surprises.
Remember that warranties do not cover damage, wear, or failure caused by a negligence to properly maintain the component in question. If you (or a previous owner) have skipped or stretched maintenance intervals, your transmission's remaining warranty may be in jeopardy.
Modern transmissions have very specific requirements for fluids and fluid change procedures, and failing to follow these (or filling the transmission with the incorrect type of fluid) can void remaining warranty coverage as well. When having a transmission fluid change performed, you'll want to be certain the correct fluid and procedures were used, which is why transmission fluid changes are best done by trained professionals in a dealer setting.
Article content
Filled-for-life transmissions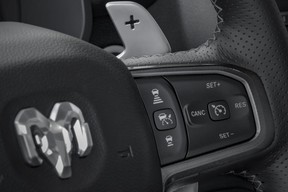 Some automatic transmissions are built to last the life of the vehicle they're installed to without the need for fluid and filter changes. These may be called 'filled for life' or 'sealed' transmissions. With no maintenance requirements for regular fluid and filter changes, maintenance costs are reduced.
In many cases, filled-for-life transmissions can have their fluid changed even if it's not required. Just read the fine print: some filled-for-life transmissions do specify the need for fluid and filter changes if the vehicle is driven in severe conditions, including frequent use in stop-and-go traffic, frequent use in extreme cold, and frequent use on dusty or dirty roads. That's the case for many Canadian drivers.
Article content
Many owners of models with filled-for-life transmissions choose to change their transmission fluid every few years, just to be safe. If you live in a mild climate and drive mostly on the highway, this might be overkill, but remember: you can't over-change fluids, and fresh fluids are the life-blood of your car's engine and transmission.
If in doubt, change that fluid out. Your transmission will likely thank you in the long term.
5 signs of used-car automatic transmission trouble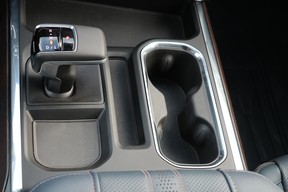 On your test drive, a few telltale signs and symptoms can give transmission trouble away.
Hard shifting, where the transmission feels like it's slamming or clunking when changing between two or more gears, is a key trouble sign. A healthy transmission should shift gears very quietly, and smoothly enough that you hardly feel it from the driver's seat. Common causes of hard shifting include low transmission-fluid fill levels (possibly from the factory), or worn or dirty transmission fluid. Software updates applied during a transmission fluid change typically fix problems like these, though hard shifting can also be a sign of one or more bad sensors used by the transmission's computer control system, or a sign of physical damage to internal components.
Article content
On your test drive, slow down from cruising speed as if you're about to stop for a red light that turns green at the last moment. Just before coming to a stop, perhaps at 10 or 15 km/h, quickly switch from the brake pedal to the throttle, giving it a good press to speed away. In this specific situation, be on the lookout for a loud clunk, bang, or lurch as the transmission shifts. This test can coax harshness from a faulty automatic transmission. If you notice any, proceed with caution and have a professional investigate before you buy.
Another common automatic transmission trouble sign is hesitation and poor throttle response. On your test drive, it's important to drive at light, moderate and full throttle, testing the transmission's ability to react to a variety of situations. If the transmission fails to shift smoothly and quickly, lags, hesitates, or otherwise has trouble delivering quick acceleration when requested, a software update is likely needed. Have a professional investigate.
Article content
Finally, be sure to make a series of three- and five-point turns, or otherwise drive the vehicle in a situation that requires quickly shifting from reverse to drive several times in succession. Switch quickly between reverse and drive, several times, being sure the vehicle is at rest before changing gear. A healthy automatic transmission should complete these shifts immediately. If the vehicle hesitates or takes longer than expected to complete the change from Drive to Reverse (or vice versa), have the transmission inspected before you buy. A software update or transmission fluid change can help.